*******NEWS ALERT*******
HEMLOCK LOCATION ONLY
DUE TO A STAFF SHORTAGE WE WILL BE CLOSED FOR 2 SATURDAY'S A MONTH STARTING IN MAY.
SORRY FOR ANY INCONVENIENCE. OUR SHIELDS LOCATION WILL REMAIN OPEN FOR ALL SATURDAY'S.
JUNE 19TH - HEMLOCK LOCATION CLOSED
ROUND UP & SAVE!
First Area has a new service. "Round Up & Save" enables your debit card to round transactions up to the nearest dollar and deposit those funds into your savings account. It's so easy to save! Call us to activate.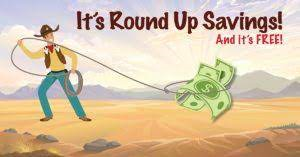 Click here for our lastest newsletter
For lost or stolen debit cards please call 1-800-500-1044.
*APY= ANNUAL PERCENTAGE YIELD
**SOME RESTRICTIONS MAY APPLY
Go to main navigation